5 hacks to take professional-looking photos
The recipe for success in the camming industry has two main ingredients: marketing yourself professionally and offering a superior service. In this article, we'll tackle the first one. When someone new checks you out, ultimately, it comes down to your profile whether they become interested or not. What's more, the attention span of people is shorter than ever, so you only have a couple of seconds to grab their interest.
So how do you stand out from hundreds of profiles? We've gathered our top 5 tips that can help you take high-quality pictures, showcasing your unique style, and make your profile more memorable.
1. Quality is all about having the right equipment
The quality of your pictures will greatly depend on the quality of your camera. Investing in a good webcam for streaming is a must if you want to level up in the business. When it comes to taking photos for your profile, your webcam and your smartphone are probably going to suffice at the beginning of your career as long as they can take pictures in at least 720p (HD) resolution. 
However, picking the right webcam for streaming will be one of the most important decisions you take. Above all, you should choose a webcam that'll work well in your streaming environment:
if you often stream in a darker room, pick one that has good low-light performance,
if sound quality is important to you, a model with dual microphones for stereo recording is ideal,
if privacy is a key concern of yours, some cameras can blur the background without using additional software.
The main point is that you cannot spare doing the research when choosing your equipment.
Pro tip #1 - Should you need help with your selection, feel free to reach out to us personally or browse our go-to list of the 12 best webcams for streaming.
2. Soft and even lighting will do the trick
We tend to believe that great shots were caught at just the right moment because the lighting, the pose, and all other elements seem to work so well together. The truth is that most good portraits are taken with the intention of using lighting to the model's advantage. Since lighting has such a great impact on the mood of pictures, it is key to understand how different types of light work and how they affect photos.
Hard light will generally lead to high contrast, creating very bright and very dark areas in the same scene as opposed to soft light that is diffused evenly and smoothly, causing very few shadows. Good lighting for portraits - especially when you're shooting indoors - is generally soft and even. This can be achieved by using diffusers to soften the light from a window or using multiple light sources to evenly illuminate the subject. In general, it's best to avoid harsh, direct lighting, as this can create harsh shadows and make the photo look unflattering. Instead, try to create a soft, diffused light that will flatter your subject and make the photo look more natural.
Let's look at a simple example.
Both of these portraits rely on frontal light as their primary light source. The subject of the right picture was clearly facing the light at an angle which creates a natural contrast. There's also plenty of ambient light, making the shot more interesting.
However, the photo on the left is more directly illuminated.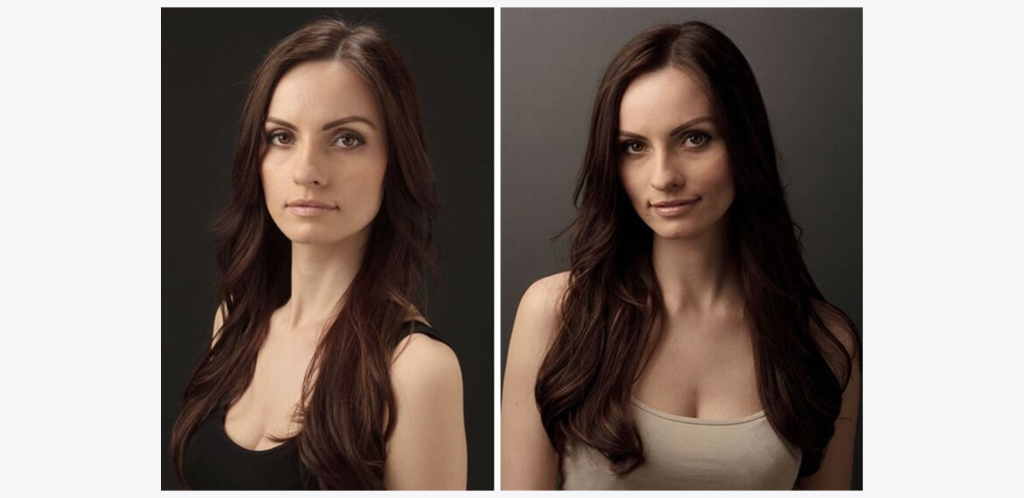 Pro tip #2 - Use diffused natural light in your pictures as much as you can or invest in a diffuser.
3. Know your angles
While quality and good lighting are essential, it's you who'll make your audience begging at the end of the day. Your best bet is to include a variety of shots in your profile to show all your sides and personality from full-body shots to cheeky selfies.
Thirst traps a.k.a. sexy selfies are essential whether they're meant to spark interest in your audience or give you a healthy boost of confidence. Both are acceptable reasons to fill your camera roll with thousands of them. ;)  When taking selfies, try different facial expressions to see which one is the most attractive. 
As for full-body photos, if you're both the model and the photographer in one person, you can experiment as much as you want to find angles that are the most flattering. Try common poses such as arching your back to make your booty pop and tilt your hips, but also do your research and look at what poses work for other successful models that have the same body type as you do.
Pro tip #3 - Utilize the focus tool for selfies. Your smartphone is probably smart enough to recognize faces or has plenty of focus features to play around with. 
Pro tip #4 - Avoid taking pictures from below as this can make you look larger than you are.
4. Touch-ups are worth the effort
No one looks the same in real life as they look on the internet. Today it's easier than ever to touch up pictures and make them look their best. This can include adding filters, adjusting the lighting, color, and contrast to create the perfect image. And the best part is that you don't need to be a Photoshop ninja to do all that. There are plenty of apps you can download to your smartphone that can help you edit your shots.
How can you make your photos appear even more attractive with small editing tweaks?
Add different filters to create a certain mood.
Touch up the lighting, and adjust the brightness and contrast to accentuate your best features.
Adjust the focal point to make sure it's you who's in focus and not the messy background.
Remove spots your makeup didn't cover and look more polished.
Pro tip #5 - Here's a list of photo editing apps you can try on your smartphone. Most professional cam models use multiple editing apps to get the look they want.
5. Experiment with different styles and outfits
It's your attractive looks and waistline that will bring new people in, but keeping things fresh and interesting is what will make them stick around. By now, you probably have a couple of go-to outfits that work for you. They get plenty of compliments from fans, they're comfortable and you feel most like yourself in them. However, showing your multiple sides with different outfits can make you attractive to a broader audience.
When choosing your outfits for profile photos, consider what your main target group will fancy. Make sure to diversify, but stick to the specific fantasies your audience has. For instance, if you're embracing the style of the girl next door, why not put on a French Maid Outfit? If you know that you tend to attract a bunch of nerds, impersonating a Cosplay character might make your fans' wildest dreams come true. 
Pro tip #6 - Don't just focus on your clothes. Make accessories, shoes, toys, and props work for you. They can add that little extra that brings your character to life while offering plenty of options to play around with them.
Conclusion
Your photos are the first touchpoint with your audience, so make them count. Never stop experimenting with poses, lighting, outfits, and touch-ups. But above all, if you're serious about your camming career, invest in a good camera. Your efforts will pay off sooner than you'd think.